Elevated thinking delivers elevated results
InspireTribe's executive and business coaching and mentoring programmes are leading edge.
In fact if you're looking for a proven system that's been going for 20+ years that will get proven results we are NOT your company. We're interested in pushing the edges of thinking with every man and women we work. We take them further than they believe possible at a more rapid rate than most would believe is achievable.
Staying ahead in an ever-evolving corporate world can be a challenge for companies, when not equipped with an expansive mindset. It's long days, ambiguous pathways, unrelenting tension, unhealthy stress and at times debilitating deadlines. The constant pressure of the corporate world in Australia has taken its toll on countless thousands.
But it need not be the case.
Amplifying the potential of every individual in Australia
In fact, with the right knowledge and conscious leadership tools, the environment can be the catalyst for transformational change.
Because when men and women understand who they are being, when they can organically see themselves through the eyes of others (without the need to be "put-in-a-box" by a diagnostic tool) then they have a chance of relating at a very deep and powerful level. When we add to that the training and knowledge of how to see any and all external challenges as internal ones their whole approach to work and life takes a quantum leap. Indeed, they can start to create their own reality.
It's the EQ Fast Track.
And when fully implemented delivers a shift that leads to accelerated learning – the core skill required for today's ever-evolving world.
An internal investment with a massive ROI
InspireTribe's professional executive leadership coaching is training with a difference: It's all about the individual and, what's more, we focus strictly on the INTERNAL of each individual, always.
Whether it be a 1:1 senior executive coaching session, a leadership programme or a large team training day, we focus on the discrete individuals present:
Who they are being
How they see themselves and
How they relate to themselves.
Quantum leaps require quantum thinking
Transformational change within each individual and every team is guaranteed.
And you're in charge of the guarantee.
The Conscious Leadership and Conscious Acceleration frameworks ensure we deliver, every time.
No matter the professional and organisational challenges, when exposed the to our Conscious Acceleration framework, and leading edge executive coaching methods, individuals are able to adapt and see their situation from totally new paradigms.
If you or your organisation are facing any of the challenges below, InspireTribe's Executive Coaching and Leadership Training programmes are an effective key solution to consider and it would be worthwhile contacting us to find out more.
If you want your leaders to bring their hearts to work and be capable of inspiring such change at every level of your organisation, contact us.
If you want them to challenge the status quo of safe thinking and inspire individuals to be open to learning and growing, talk to us.
If you want intelligent individuals to move beyond the limitations of their logic, to let go, to be less rigid and be more open and expansive in their thinking so they can access their full potential, talk to us about our management programs.
If you want to be certain that high potential individuals are going to be able to consistently step into their potential once promoted and that they will use the increasing complexity and ambiguity to learn, grow and evolve and not flounder or be 'another mistake', talk to us.
If you are wanting senior leaders who are falling behind to shift away from rigid past thinking and adapt to the changing conditions so they can use their wealth of experience to avoid past mistakes and see the company confidently accelerating forward, talk to us what we offer in the way of management programs.
If you want individuals struggling with the pressure of doing more with less to evolve their thinking so that rather than buckling under the weight of the pressure they actively embrace and thrive within it, talk to us.
If you feel that engagement scores are suffering as managers are using quick fix motivation techniques that only work for the short-term but you want leaders to be able to inspire team members to step up and take responsibility for their own engagement within the company so the solution is solved for the long-term, talk to us about our services.
If there is a strong need to drive sales and you can see that this can be done if only the individuals connected and engaged with the client more effectively and authentically sales would increase, talk to us.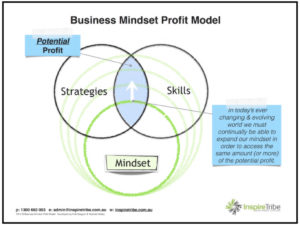 Mindset: the power to create rapid change
The art of business is relatively simple: combine a sound business strategy with the complementary skills of a team and the potential profit is set.  The difference between the business that succeeds, and the one that fails, will be the level of thinking of both the leader and their team.  The more expansive the level of thinking the greater the ability to actually access the potential profit.
Inspire Tribe Client Testimonial
I got inspired at InspireTribe…
I'm extremely grateful to my accountant, for recommending me to InspireTribe.
Before seeing Nikk I was existing – I was successful in other's eyes, but at the same time, I felt like I was treading water. 
I am no longer the guy that walked in on day one.  I have clear vision that inspires me. I'm excited, vibrating with enthusiasm and joyful about life and where I'm going.  I have solid direction, goals to achieve and an effortless internal drive. These days, instead of just trying to stay afloat I feel like I am skiing behind a wonderfully fast boat!
I wouldn't change anything about the way they work. Nikk knows a great deal about the human condition and is not distracted by symptoms or external issues.  She gave me so many insights into myself – some I knew deep down but I was not able to bring them to the surface but others, I had no idea about.
Most importantly, she shared a process that has shown me how to get to the core cause of any inaction I experience, and she has also shared the thinking strategies to improve my internal energy levels so I can drive external growth. 
When people ask what have I've done to be so engaged, I tell them I got INSPIRED at Inspire Tribe. In the past I tried to motivate myself. But, through learning about myself and understanding why I did what I did, and through gaining the new more advanced strategies for success, and learning how to adjust as I go, I've been given the secret to self-inspiration.
The coaching and mindset mentoring has also provided me with an even healthier mindset when it comes to money – my daily focus is prosperity and wealth in all areas of life.  The investment was worth every cent plus more. 
– Michael Robertson, Regional Managing Director at EntrustDatacard
Time To TAKE ACTION
Nothing changes… if nothing changes!

To find out more about The EQ Code
and how you can work with us,
click here to send us an email.
Or call our wonderful assistant Trudy
on Ph: 1300 663 003 or International: +61 (0)3 9775 3074
and book a 10-30 min chat
to see if our programme is a fit for you.
If you need to see how our mindset mentoring and coaching
has worked for others, click below to read
CASE STUDIES of CLIENTS
and see for yourself what clients in a similar situation
have experienced through working with us.
Of course, their stories likely won't relate to you exactly
because everyone's starting point is different
but, it will give you a taste of what's possible. 
NEXT STEPS
Now over to you.
What's YOUR starting point?
And what would you like your end point to be?
Call us or contact us via email
to determine what's likely to be possible for you.