Elevated thinking delivers elevated results
InspireTribe's executive coaching and mentoring programmes are ground breaking. We focus on expanding the thinking of every individual we work with as fast and as effortlessly as possible. As a result we take our clients further than they believe possible, at a more rapid rate than most would believe is achievable.
The unique challenge of BIG business
If you're in the corporate world, you'll know all too well that it comes with special challenges: ambiguous pathways, unrelenting pressure from a variety of internal and external sources, innumerable stress inducing situations and a never ending string of deadlines.  
While navigating the above usually starts as an exciting challenge, as time goes on, that initial excitement is gradually replaced, and what it's replaced by varies from person to person… 
..dramatically!
The key to deciding if InspireTribe will be the right fit for you is less about the space you find yourself in now and more about where you want to get to and, most importantly, your desire to make that happen.
You may want to: 
Move from being bored to feeling driven and productive again, 

Go from experiencing regular overwhelm to being empowered and action-oriented, 

Shift from being engaged to the far more influential position of being inspiring (to yourself AND others) 
Or, you may want to move from a totally unique starting point to another equally unique endpoint!
That's because, when it comes to the work we do…
It's all about CREATING
the INTERNAL CHANGE that DELIVERS
both the internal and external
RESULTS that YOU WANT.
So, if you're looking to experience a significant and positive change in your life (professional and/or personal), you're in the right place.  
Click on the image below to watch this video on you.tube
Transformational Change
The good news about being in the corporate environment is that, when it's coupled with our world leading self-leadership tools, it can be the catalyst for extraordinarily rapid and transformational change. Why? Because there are so many and such varied opportunities to test new skills when you work in a larger and more complex work environment.
So what are the…
World Leading EQ Leadership Tools
There are 14 logical elements to InspireTribe's EQ Code. Our world leading hyper-logical framework is giving the most rigid and intellectual of thinkers access to deep levels of empathy and a stunningly simple way to consciously understand and expand on their natural talents.
The elements when used separately and together transform coaching conversations into laser sharp communication. Within a few short sessions, you'll see yourself in a whole new light. Knowing this stunningly simple code puts you on the emotional intelligence fast track. 
And, when deeply understood and consistently used, these elements and frameworks deliver the core skills required for today's ever-evolving world: Consistent personal insights and shifts that lead to accelerated intellectual and emotional learning.
An internal investment with a massive ROI
When you're able to consciously and consistently expand your thinking you're able to: 
Go further, faster as you continuously and effortlessly expand your influence

Take consistent action without fear of burning out

Make significant decisions with confidence and ease

Deal with all types in a cool, calm, relaxed and self-assured manner

And so much more
You'll also:
Feel strong and certain within yourself

Have heaps of energy for yourself and others

Feel inspired about life as you wake up

And feel as though you're living your purpose as you head into the office.
And, 'YES', all of that (and a whole lot more) most certainly is possible!
Guaranteed Change
When working with InspireTribe, transformational change is guaranteed.  What's more, we put you in charge of the guarantee.  And, there's no fine print to read around that topic. That's because the EQ Code framework is so simple and effective it delivers results, every time.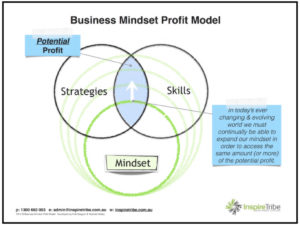 Mindset: the power to create rapid change
The art of business is relatively simple: combine a sound business strategy with the complementary skills of a team and the Potential Profit is set.  The difference between the company that succeeds, and the one that fails, will be the level of thinking of both the leader and their team.  The more expansive the level of thinking the greater the ability to actually access the potential profit.
Put simply, our clients get great results.
Inspire Tribe Client Testimonial
I got inspired at InspireTribe…
I'm extremely grateful to my accountant, for recommending me to InspireTribe.
Before seeing Nikk I was existing – I was successful in other's eyes, but at the same time, I felt like I was treading water. 
I am no longer the guy that walked in on day one.  I have clear vision that inspires me. I'm excited, vibrating with enthusiasm and joyful about life and where I'm going.  I have solid direction, goals to achieve and an effortless internal drive. These days, instead of just trying to stay afloat I feel like I am skiing behind a wonderfully fast boat!
I wouldn't change anything about the way they work. Nikk knows a great deal about the human condition and is not distracted by symptoms or external issues.  She gave me so many insights into myself – some I knew deep down but I was not able to bring them to the surface but others, I had no idea about.
Most importantly, she shared a process that has shown me how to get to the core cause of any inaction I experience, and she has also shared the thinking strategies to improve my internal energy levels so I can drive external growth. 
When people ask what have I've done to be so engaged, I tell them I got INSPIRED at Inspire Tribe. In the past I tried to motivate myself. But, through learning about myself and understanding why I did what I did, and through gaining the new more advanced strategies for success, and learning how to adjust as I go, I've been given the secret to self-inspiration.
The coaching and mindset mentoring has also provided me with an even healthier mindset when it comes to money – my daily focus is prosperity and wealth in all areas of life.  The investment was worth every cent plus more. 
– Michael Robertson, Regional Managing Director at EntrustDatacard
Time To TAKE ACTION
Nothing changes… if nothing changes!

To find out more about The EQ Code
and how you can work with us,
click here to send us an email.
Or call our wonderful assistant Trudy
on Ph: 1300 663 003 or International: +61 (0)3 9775 3074
and book a 10-30 min chat
to see if our programme is a fit for you.
If you need to see how our mindset mentoring and coaching
has worked for others, click below to read
CASE STUDIES of CLIENTS
and see for yourself what clients in a similar situation
have experienced through working with us.
Of course, their stories likely won't relate to you exactly
because everyone's starting point is different
but, it will give you a taste of what's possible. 
NEXT STEPS
Now over to you.
What's YOUR starting point?
And what would you like your end point to be?
Call us or contact us via email
to determine what's likely to be possible for you.