We've all seen businesses that flourish and we've seen ones that fail too.  Same industry, similar strategy, very similar skill set but totally different outcomes.
The difference is…
 Our thinking level determines our profit level.
Limited thinking, limited profit.
Expanded thinking, expanded profit.
It really is that simple.
You're in business and you're doing ok, but you believe business could be better.
You've done well but the results have plateaued.
You and your team have a great skill set, you're implementing a solid strategy but still the profit feels a little light on.
You're successful, quite successful, but you know you've got even more in you!
Mindset Business Coaching is likely to be the answer.  It's a non-traditional form of business coaching and it…
Delivers results straight to your bottom line.
Traditional business coaching assists you with sales and marketing processes, operational processes and the overall vision and strategy of the business. This form of coaching gives you a solid fighting chance in the marketplace.
There comes a time however when knowing more won't improve your results.  Because the best advice in the world simply won't work if you're not able to implement it!
So, if you have the basics of business going and you know what you should be doing BUT…
you can't quite find the motivation or
you can't find the time or drive
things just keep getting in the way
Mindset business coaching is very likely to be the answer.
Business owners looking Fast Track Their Success
rethink and rework their Mindset.
The InspireTribe Mindset Business Coaching Programme delivers results.
It's profitable change, delivered fast.
Because we understand the power YOUR mindset has over your business.
And we aren't just talking cash profit, profit can be made up of feeling good about your business, increasing the time spent away from the business or simply feeling really a sense of achievement about what you're accomplishing.
Join the many small to medium business owners and senior members of their teams who have invested in Mindset Mentoring and reaped the rewards.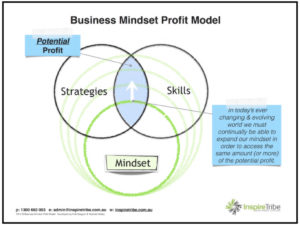 Mindset: the power to create rapid change
The art of business is relatively simple: combine a sound business strategy with the complementary skills of a team and the potential profit is set.  The difference between the business that succeeds, and the one that fails, will be the level of thinking of both the leader and their team.  The more expansive the level of thinking the greater the ability to actually access the potential profit.
Download Free Mindset Mentoring e-booklet
Time To TAKE ACTION
If you need to see how our mindset mentoring and coaching
has worked for others, click below to read
CASE STUDIES of CLIENTS
and see for yourself what clients in a similar situation
have experienced through working with us.
Of course, their stories likely won't relate to you exactly
because everyone's starting point is different
but, it will give you a taste of what's possible. 
Nothing changes… if nothing changes!